A focus on fashion this week instead of my normal workouts. On pretty much every social media space, blogs, the news, and magazines all I am hearing about is Spring. Pretty pastel colors and how spring is coming. This has me thinking about cute clothes, pretty nails, painted toes, and sandals. I want to step outside and feel the warm sun. Unfortunately we are about 2 months from that! It is currently raining/sleeting and that is supposed to turn over to snow tonight and there is a potential big storm in the works for Sunday. So for the time being I can dream about spring fashion and start incorporating little pops of color here and there.
After attending a 5 Essentials for Spring Event at Macy's last night I am even more anxious for warm weather. Jamie Krell, who is a style correspondent for the Today Show, E! and Extra was the host of the event and did a fantastic job! So what are the 5 Essentials?
Lace
Peplum
Printed Pant/Denim
Dresses
The Pullover
I loved so many of the looks but a few were really high end and out of my budget for clothes. So I am focusing on the pieces that are more realistic in both price and likelihood of being worn. Let's be realistic, I live in Minnesota,not New York or LA, and fashion trends take a little longer to catch on here… But don't take that as Minneapolis women aren't dressing great. Because most women here look great and take fashion seriously, bit with the knowledge that it has to work in our crazy weather. Would we love to wear 3 inch heels all year? Sure. But it snows and your feet would freeze.
Lace
Pretty but with a bit of an edge. Wearable for day or night. It is even better with a great trench coat over it. 2 outfits that really stood out for me. The Kensie Seafoam Lace Dress, I love this color! It feels so much like spring. And the Rachel/Rachel Roy Cream and Black lace dress.
 
Peplum
There is something so feminine and pretty about peplum. It feels like such a classic silhouette. While I love this trend on others I can not seem to pull this off. The shirts are shorter and I have a really long torso. Maybe this is one that I leave to others.
This Bar III dress in cream peplum with orange needs to be in my closet. I seriously love it. Hello orange!! And at $79 this is more inline with my budget.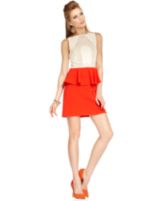 Printed Pants/Denim
I am all for great pants, in bright colors or a fun print, yes please!! Now I just need to find a pair that I really really love. I actually tried these BarIII pants on last night. I was thisclose to buying them but the reminder that we are buying a house in 2 months stopped me
Dresses
I wear dresses all year (with tights and boots in the winter) but really look forward to the day that I can wear a dress with a pair of sandals. Why not show off my glowing white legs
This French Connection dress in a color block pattern with grey, orange and black also needs to magically show up in my closet. With the shoes. And if I could look as good as the model Kim did with her super cute short hair too. (Asking for too much? Probably, but I can dream)
At $148 it isn't crazy expensive and something I feel like I could get a lot of use out of (I am trying to convince myself how much I would wear this)
The Pullover
This one was not very high up on my list but all the models looked so good in their outfits that I may consider this. My biggest issue? We wear sweaters from October-April. I really like to not be under so many layers when I can.
The multi sweater with navy shorts (all my Marc Jacobs) is adorable. This outfit alone might make me try it.
A few other trends to think about: Mint/Aqua/Emerald for colors, scarves, a flared jean with a flat sandal and leather.
How do these fit in with real life? Actually easier than I thought. Get a cute lace dress to wear to summer weddings, maybe try a Peplum top with a pair of skinny jeans and flats, step outside of your comfort zone and get some printed pants. I know they seem very scary but a subtle stripe or bold pattern is really cute!